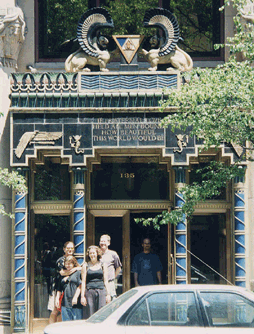 The first place Bill took us was to the Temple of Pythionism. Pythius was a guy from long time ago who had a brother. A fraternal society with his name was started about a hundred and fifty years ago. Fascinating, right? Now this building is a condo for a bunch of middle-aged rich folk.
We went on the Circle Line which is a boat which circles Manhattan Island. It was fun except for the lady next to me who threw up her shrimp pasta into her hat.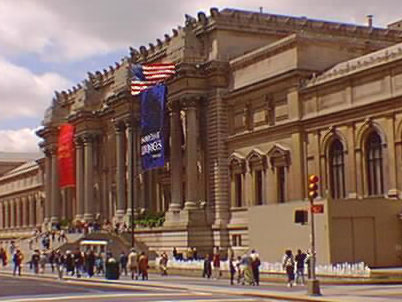 This is the Metropolitan Museum of Art. It is the largest single collection of art in the whole world. They even have an exhibit devoted to Armour, you know, like Knights used to have. They even have some stuffed horses with horse armour. They even have an armour hotdog. They also have an exhibit of Egyptian art and an actual temple thry brought over stone by stone called "The Temple of Dandruff".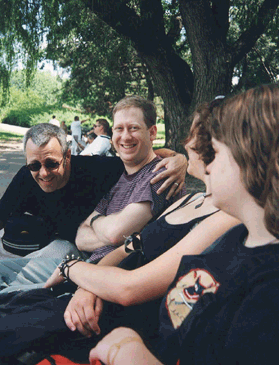 Oh, Yeah. Heres when we went to the park. We're sitting with Paul and Bill on the green benches next to the big boat pond, and they're yuckin' it up for the camera. Pam's taking the picture I think.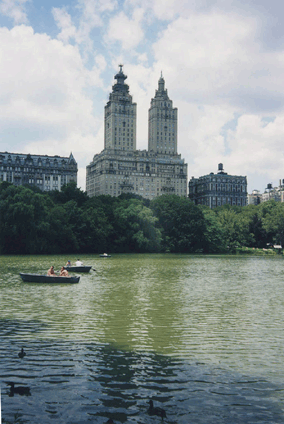 While we were all sitting next to the pond looking at the buildings along the side of the park we noticed two curious-looking men in a boat. Neither of them had a shirt on. If you looking closely you may be able to see them.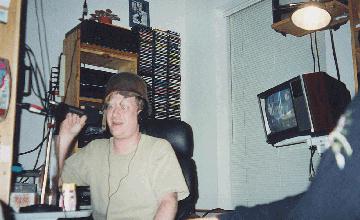 This is a picture of Bill at work in his pirate radio station late at night. I would say he hadn't taken all of his medication yet! This photo was taken by either Pam or Paul long after we had gone to bed at the Radio City Room Rentals. I heard that Paul came home at like 5:00 in the morning, a couple of times! I also heard that they went to a place called SIBERIA.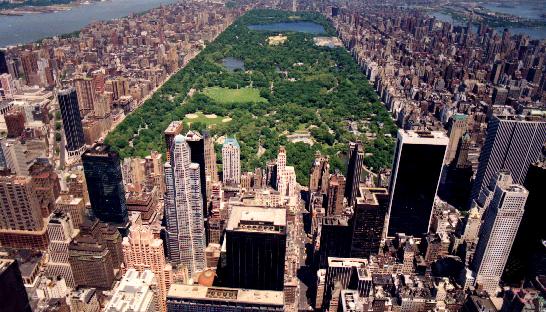 Pat-Pat took us up in a helicopter. It was fun until he got dizzy and passed out in my lap. This picture is of Central Park from several thousand feet up.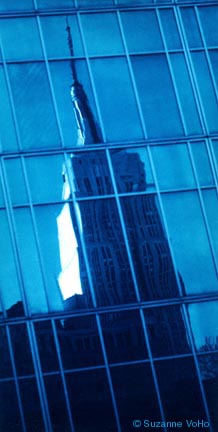 This is the Empire State Building. There was a bomb threat so they wouldn't let us go up to the top. I took this picture. Some fat guy was standing in my way so I had to take a picture of the reflection off another building.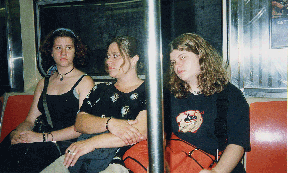 After a long day, here we are with mom, riding the subway home from Bill's.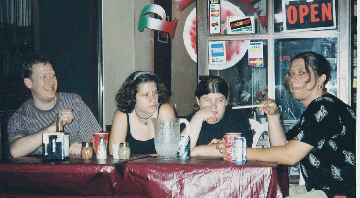 Here's where we went one night. It's a little Italian restaraunt in Lil Italy. We had Italian food. The streets were blocked off so cars couldnt go, so there was only people walking around the streets. Some hippie lady was going around from cafe to cafe strumming a guitar and singing songs. She got close to us and was singing 'Hey Jude'. Paul insulted her and threw a tomato almost striking here in the chest. She went away.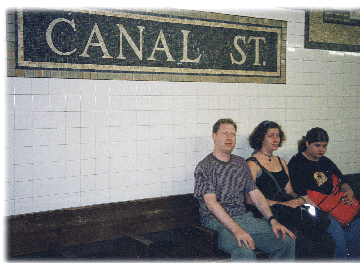 Here we are waiting for another subway. That's Bill sitting next to us. He must have eaten a whole lot right before this picture was taken.